by Dr. Samantha Lussier, Psy.D. / in Active, Adult Relationships, Healing, Self Improvement, Trauma, Uncategorized / tags: abuse, Adult Relationships, Couples, Couples Counseling, domestic violence, Relationships, violence
---
Some days are good. Really good… Some days are bad. Really bad… The bad days have progressively become more frequent. The hope of good days is beginning to fade.
It was a long day after a long week. Come to think of it, it's been a long year. My daughter and I curled up in bed watching a movie as we fell asleep. I heard the sound of Adrian's key turn in lock. My eyes immediately popped open. The door swung open and slammed against the wall. At that moment, I knew Adrian had been drinking. "It's a bad day," I thought to myself. The dog jumped and my daughter gripped me in fear. I squeezed her hand in an attempt to comfort her and possibly to reassure myself.
I jumped out of bed in an attempt to sooth Adrian. Not sure what to expect, I carefully walked on eggshells so as to not set Adrian off into a rage of anger. Nevertheless, verbal daggers in the form of criticism and put-downs were quickly thrown toward me violently striking me in the heart. I frantically attempted to nurture and reason with Adrian. I desperately wanted to prevent the explosion I knew was coming. With one sweep of Adrian's arm, my late grandfather's heirloom shattered into a million pieces on the dinning room floor. I felt angry, sad, and scared. Adrian walked away with no regard for what he had done. I quickly and silently gathered some items and left with my daughter and the dog.
The next morning, I woke up to several texts messages and voice messages from Adrian pleading with me to come back, promising me that the drinking is over for good and making commitments to get help and seek counseling to gain control over the anger. I thought to myself, "Today will be a good day. Maybe Adrian will finally follow through. Maybe we can finally escape this horribly destructive pattern." My second thought was, "Adrian has promised all of this before. What will make this time different? We have gone through this pattern countless times before."
My final thoughts were, "I do not want this life for my daughter, for myself, nor for Adrian. This time, I will change the pattern. This time I will seek support for myself."
This story is fictional and created with the intent to illustrate an abusive relational pattern as to increase awareness, offer knowledge and provide support for those who may be engaging in an abusive relational pattern.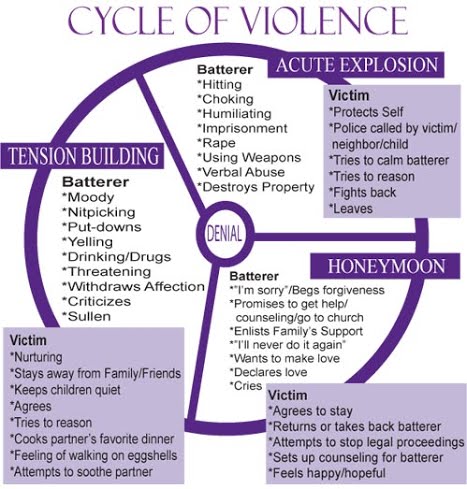 According to the National Coalition Against Domestic Violence (2015), "Domestic violence is prevalent in every community and affects all people regardless of age, socio-economic status, sexual orientation, gender, race, religion, or nationality. Physical violence is often accompanied by emotionally abusive and controlling behavior as part of a much larger, systematic pattern of dominance and control. Domestic violence can result in physical injury, psychological trauma, and even death. The devastating consequences of domestic violence can cross generations and last a lifetime."
Obtain further information at www.NCADV.org
The Lord is close to the brokenhearted; he rescues those whose spirits are crushed. – Psalm 34:18
If the above depicted relational pattern is one that you find to be familiar, please seek help. Your life is worth it.
Call The National Domestic Violence Hotline 1-800-799-SAFE (7233)
Or, online go to www.Domesticshelters.org
DCADV. (2015). Domestic violence national statistics. Retrieved from www.ncadv.org
Holy Bible. New Living Translation copyright© 1996, 2004, 2007, 2013 by Tyndale House Foundation.
---
About the Author: Dr. Samantha Lussier, Psy.D.